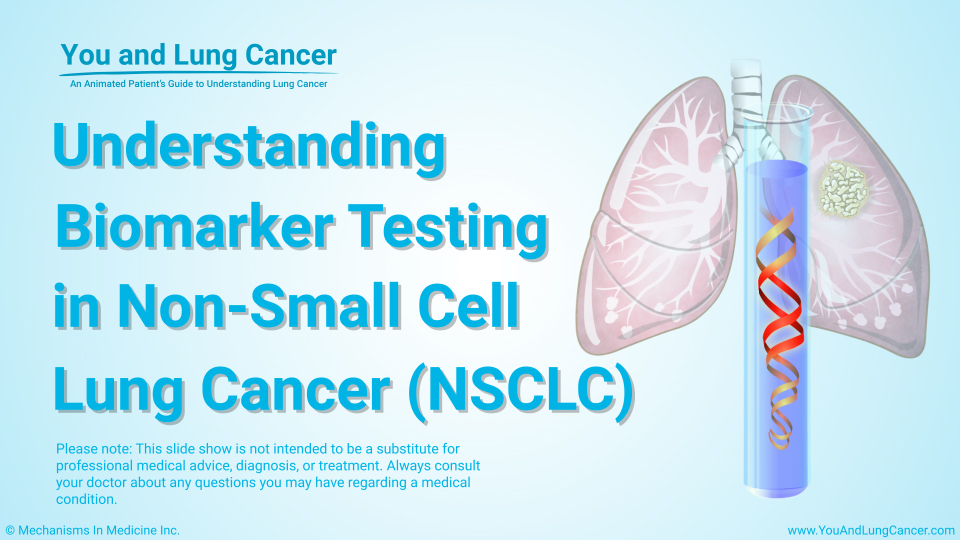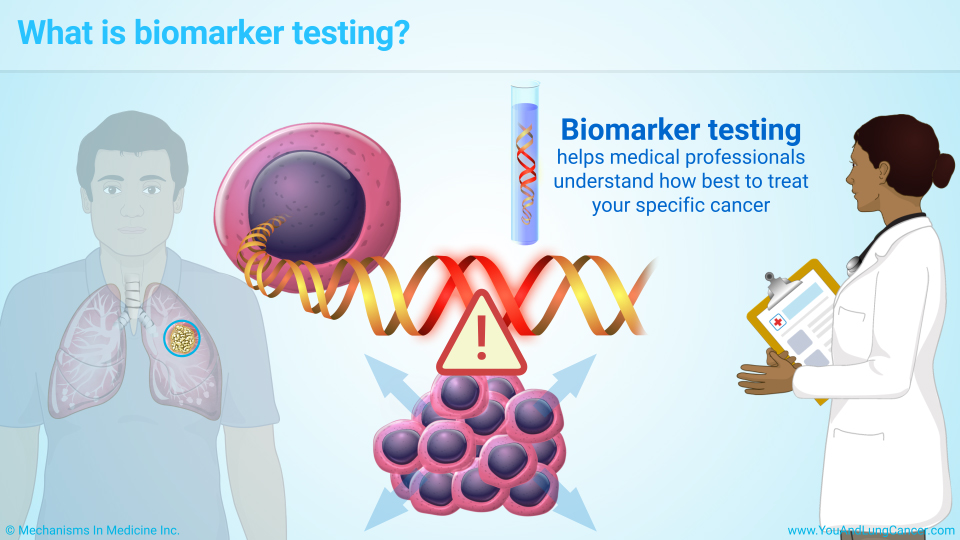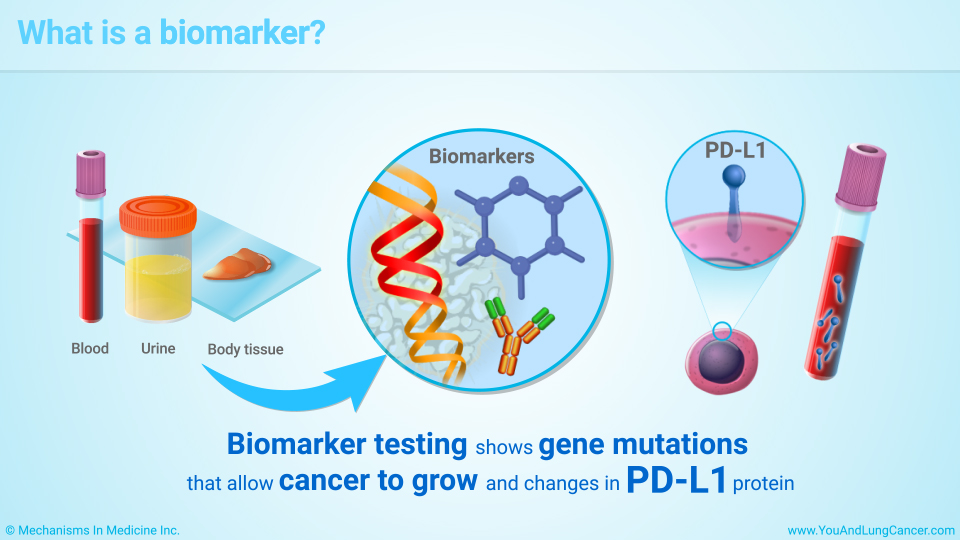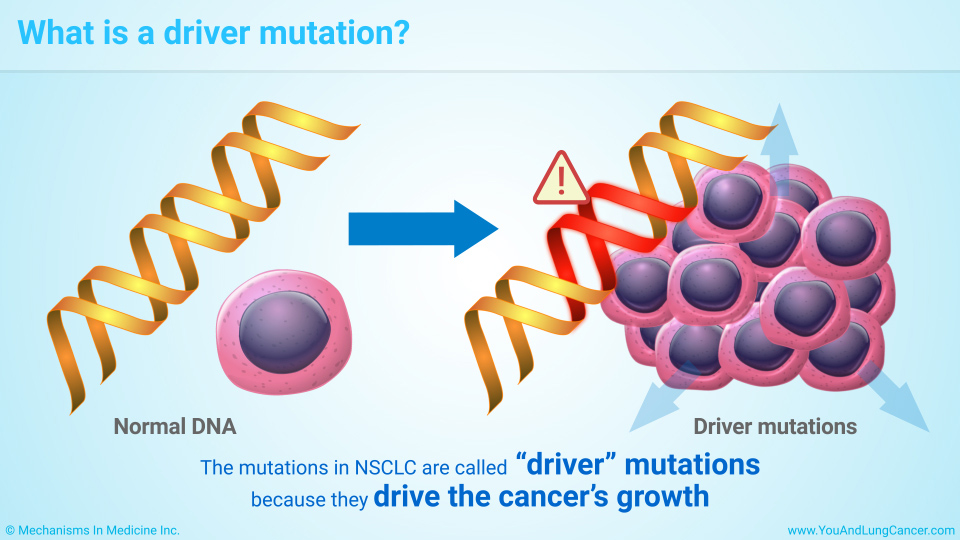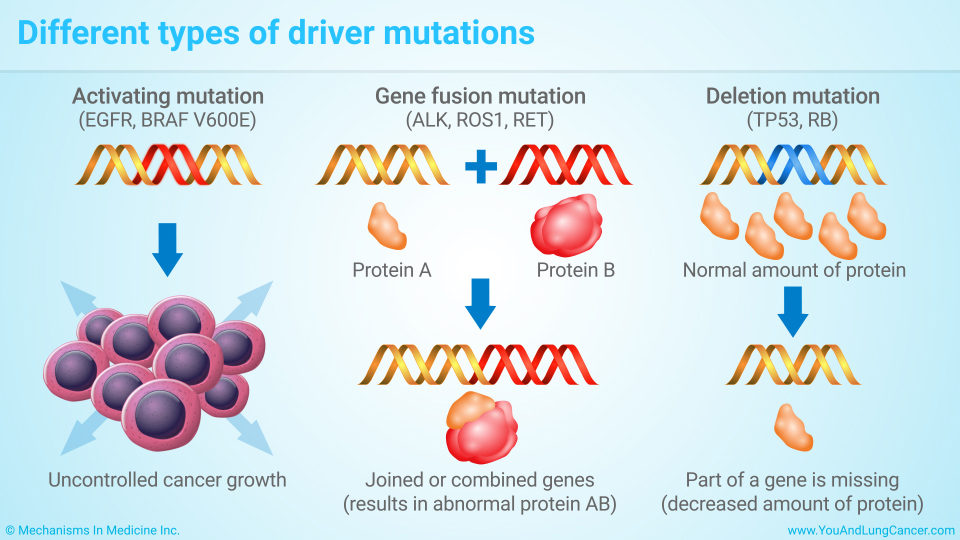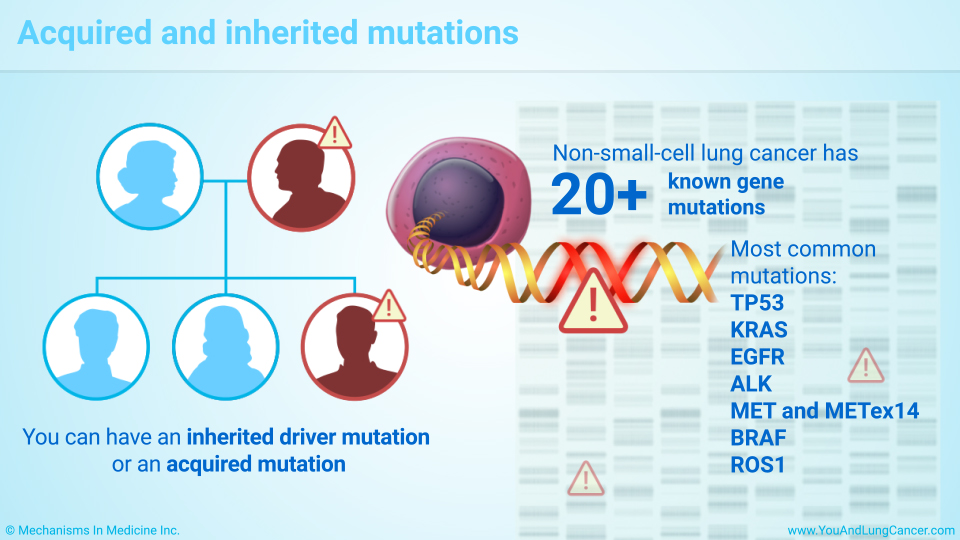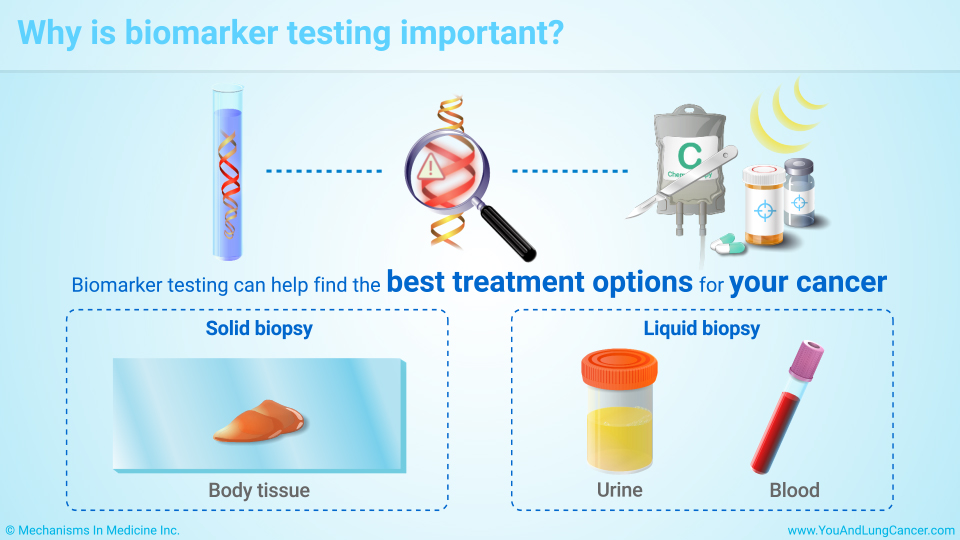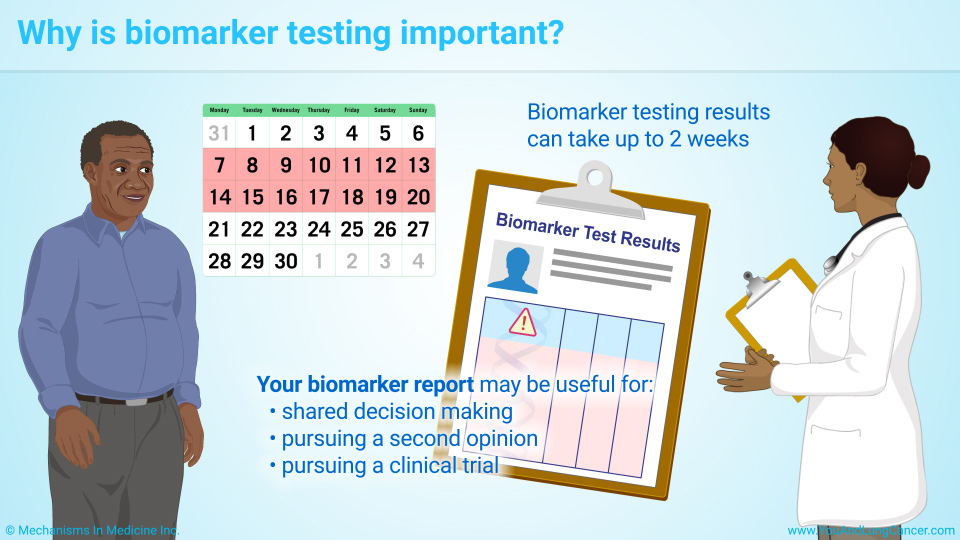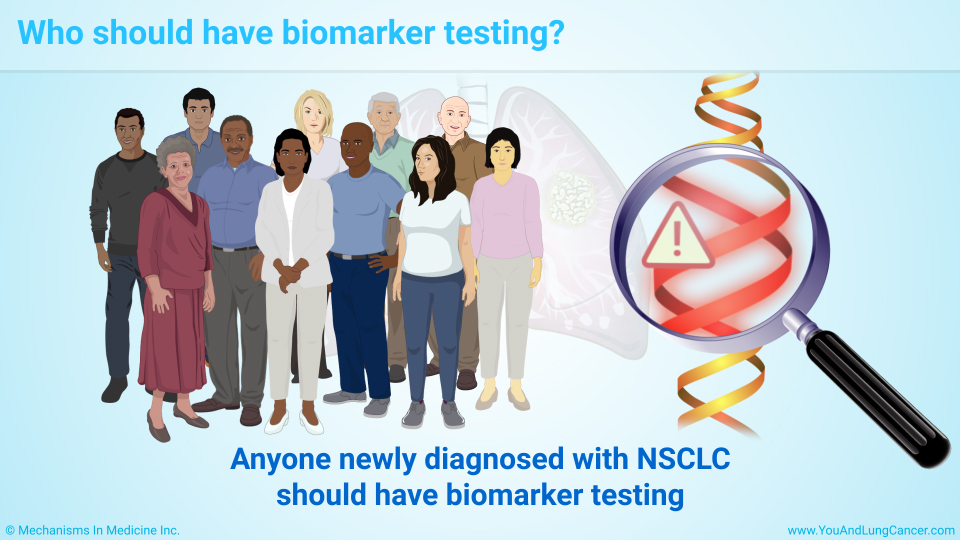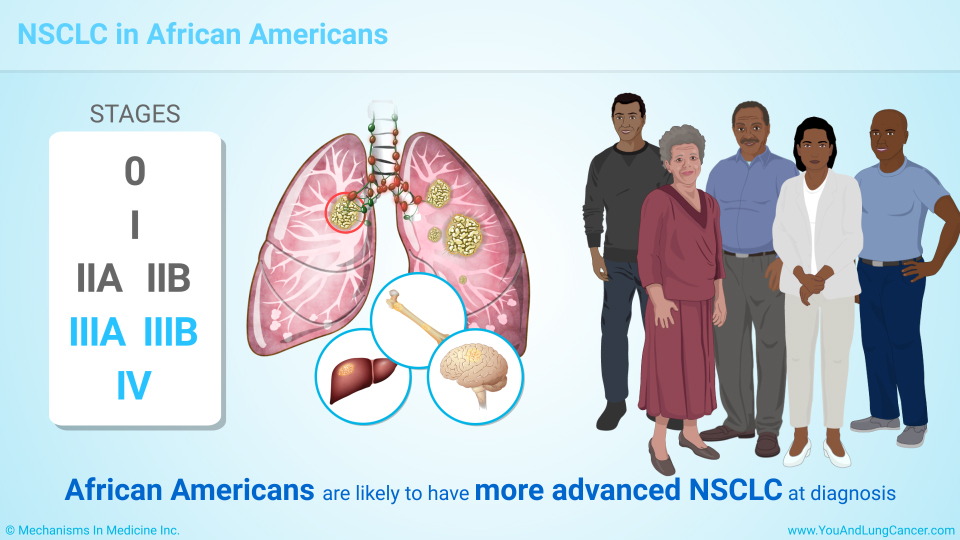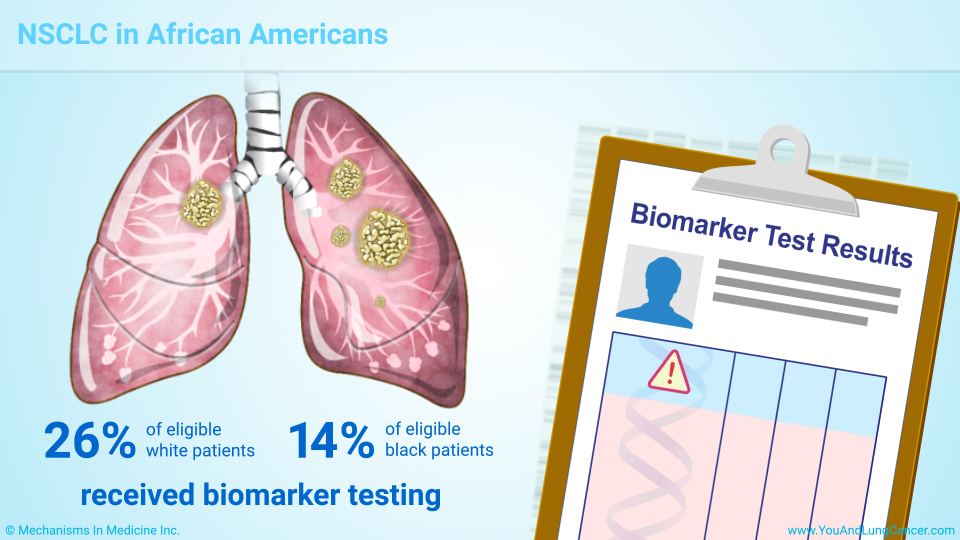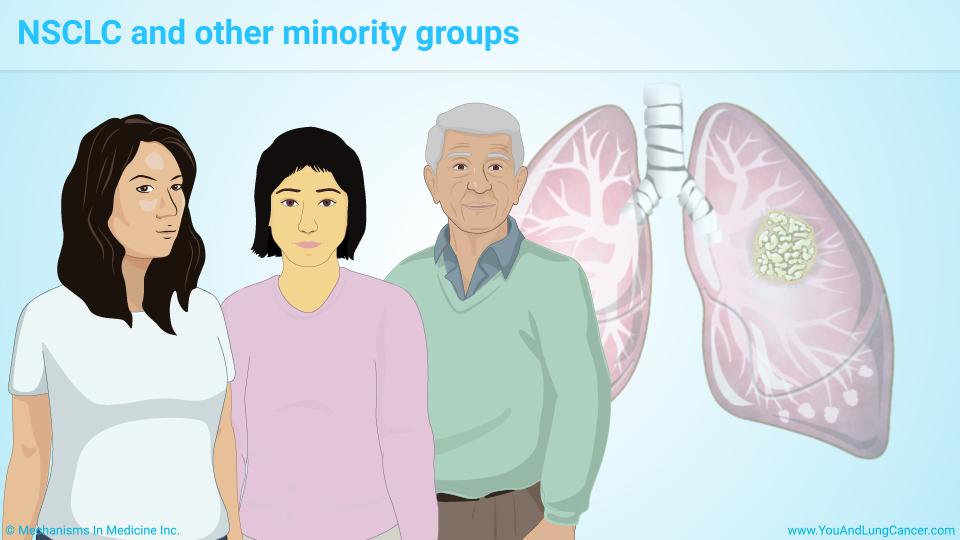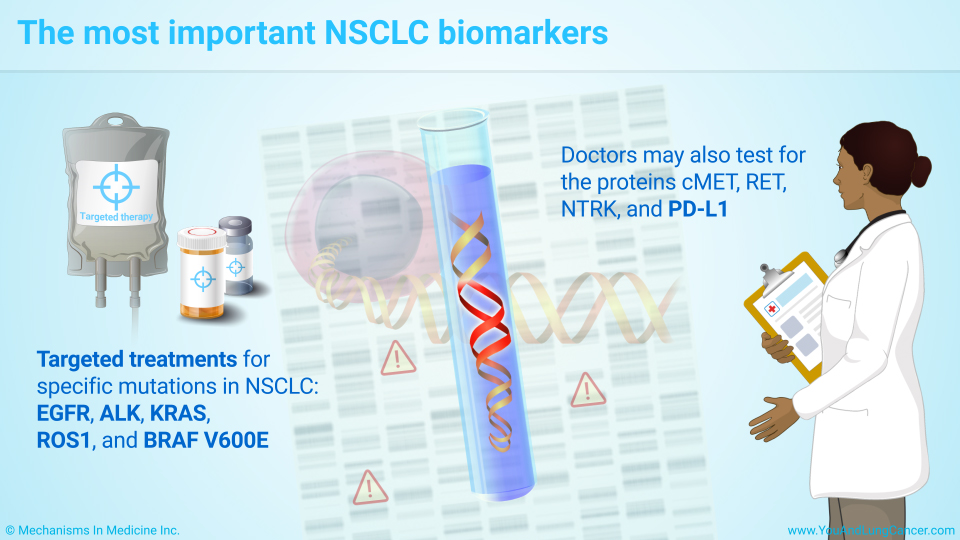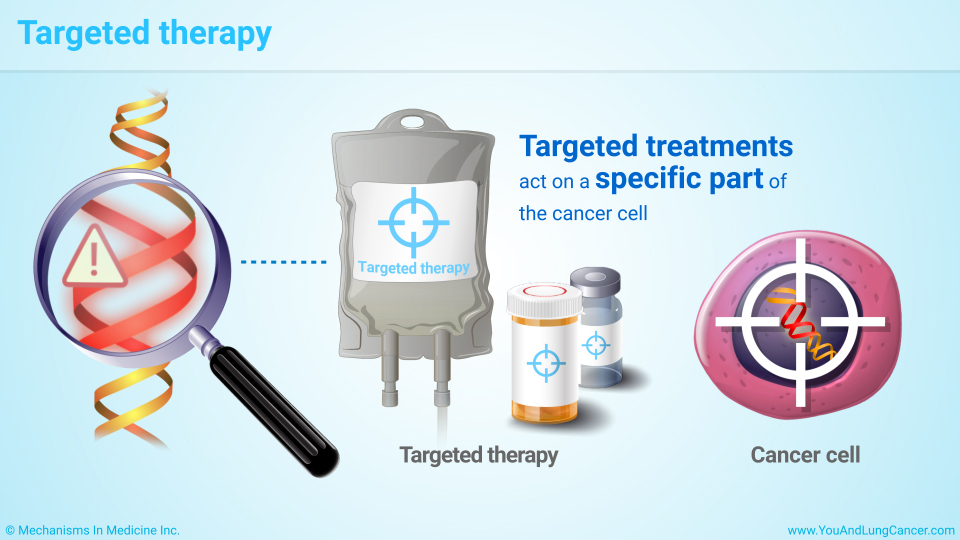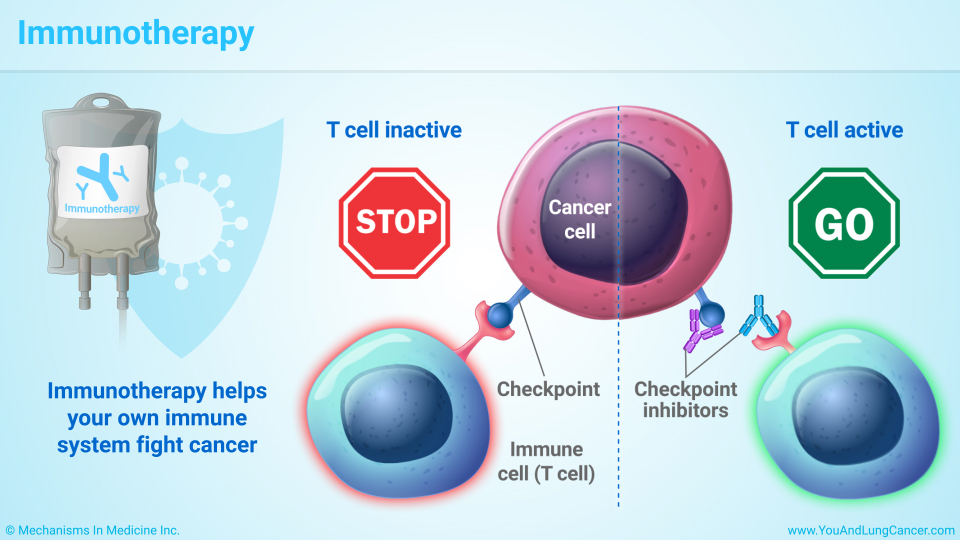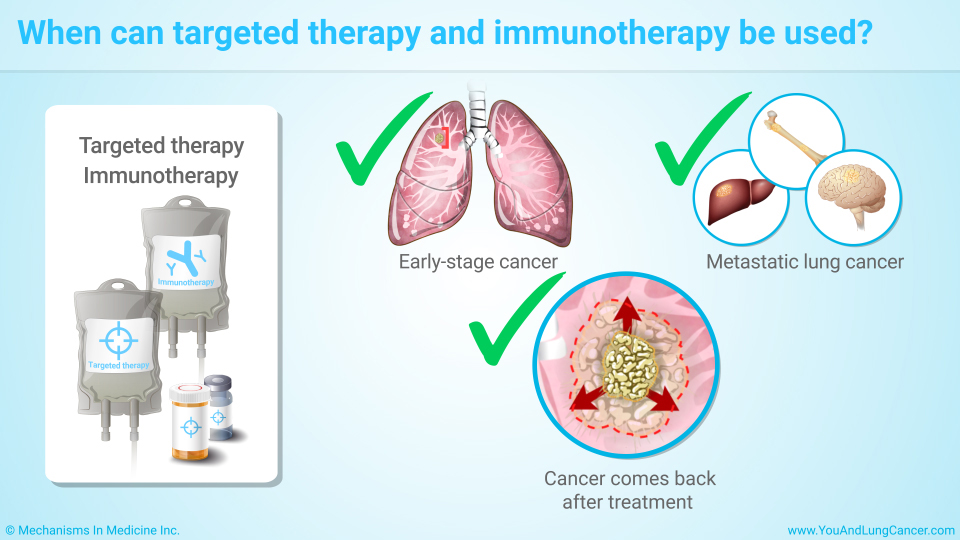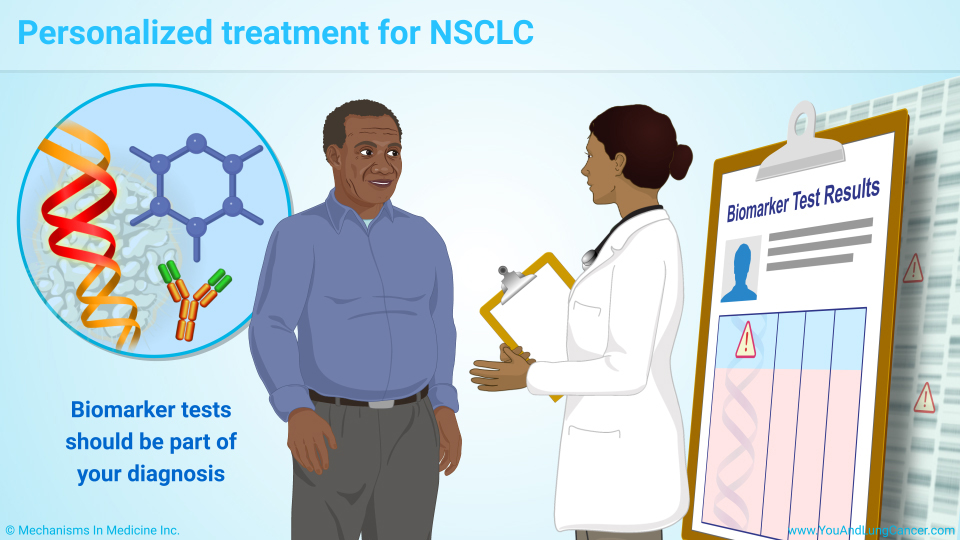 Understanding Biomarker Testing in Non-Small Cell Lung Cancer
*Please note: This slide show is not intended to be a substitute for professional medical advice, diagnosis, or treatment. Always consult your doctor about any questions you may have regarding a medical condition.
What is biomarker testing?
If you have non-small-cell lung cancer (NSCLC), your disease began with changes to your genes. These changes, called "mutations", cause your lung cells to grow out of control.
Scientists are learning more about the way these gene changes help the cancer grow and spread, and biomarker testing helps medical professionals understand how best to treat your specific cancer.
What is a biomarker?
A biomarker is a substance that is found in the blood, urine, or body tissues. In cancer, it is something the body makes in response to the disease.
A biomarker may also be called a tumor marker. It can be in or on the tumor itself. Biomarkers help doctors learn more about a patient's unique lung cancer.1
Biomarker testing is also called genomic or molecular testing. In NSCLC, it can show gene mutations that allow the cancer to grow. It can also show changes in the level of a protein called PD-L1.2
What is a driver mutation?
The mutations in NSCLC are called "driver" mutations because they drive the cancer's growth.4 Cells with a driver mutation are especially vulnerable to targeted therapy against that mutation.
Different types of driver mutations
Several driver mutations are found in NSCLC:
An activating mutation causes uncontrolled cancer growth. Examples are mutations in epidermal growth factor receptor, or EGFR, and BRAF V600E.
A gene fusion mutation happens when genes join, or combine, to send the body abnormal instructions. Gene fusions can drive cancer, including NSCLC, where known gene fusions include ALK, ROS1, and RET.
In a deletion mutation, part of a gene is missing. This happens in the TP53 and RB genes, among others.
Acquired and inherited mutations
You can have an inherited driver mutation. Or it can happen sometime during your life, called an acquired mutation.
NSCLC has more than 20 known gene mutations. Each one is a potential target for treatment that attacks the mutation's weakness. The most common mutations are TP53, KRAS, EGFR, ALK, MET and METex14, BRAF, and ROS1.
Why is biomarker testing important?
Biomarker testing can help find the best treatment options for your cancer. It is necessary to learn if newer treatments could work for you.
You may have a solid or a liquid biopsy to test for biomarkers. A solid biopsy takes a small sample of the tumor. A liquid biopsy checks a sample of urine or blood.
Why is biomarker testing important?
Biomarker testing results can take up to two weeks. It is important to wait for the results and ask for a copy. Your report may be useful for shared decision making with your healthcare team, to pursue a second opinion about the diagnosis and treatment options, or to pursue a clinical trial.
Who should have biomarker testing?
Anyone newly diagnosed with NSCLC should have biomarker testing.5 It is important that all lung cancer patients understand the importance of biomarker testing following their diagnosis, and request testing if it isn't offered.
This is especially important if you belong to a group, such as African Americans, that tends to be diagnosed with lung cancer more often and have higher mortality rates than other ethnic groups.
NSCLC in African Americans
African Americans are likely to have more advanced NSCLC at diagnosis. They tend to have a longer wait for care and lower survival rates than white Americans.6
NSCLC in African Americans
A recent study found that when looking at metastatic non-small cell lung cancer, 26% of eligible white patients were receiving biomarker testing compared to 14% of eligible Black patients.3
Biomarker testing is critical to improving care and survival for African Americans with NSCLC.
NSCLC and other minority groups
Also ask about testing if you are American Indian, Alaska Native, or a Pacific Islander. People from these groups have higher rates of lung cancer than people with European ancestry.6
The most important NSCLC biomarkers
Targeted treatments are available for specific mutations in NSCLC, such as the EGFR, ALK, KRAS, ROS1, and BRAF V600E gene mutations. Doctors may also test for the proteins cMET, RET, NTRK, and PD-L1.
Targeted therapy
Identifying biomarkers leads to a type of treatment called targeted therapy. These treatments act on a specific part of the cancer cell. The test results tell the doctor which drug is likely to hit the "target".
Immunotherapy
Immunotherapy is another option. It helps your own immune system fight cancer. For example, immunotherapy drugs called checkpoint inhibitors remove barriers, or checkpoints, that the cancer cells put up to stop your immune system. This allows your immune system to destroy cancer cells.
When can targeted therapy and immunotherapy be used?
Targeted therapy and immunotherapy can be used early in the disease or later for metastatic lung cancer, or lung cancer that comes back after treatment.
Personalized treatment for NSCLC
There are certain biomarkers doctors almost always test for. These tests should be part of your diagnosis.
If your doctor does not mention biomarker testing, feel free to ask. The results can make a difference in health outcomes.
References
Califf RM. Biomarker definitions and their applications. Exp Biol Med (Maywood). 2018;243(3):213-221. doi:10.1177/1535370217750088
Garrido P, Conde E, de Castro J, et al. Updated guidelines for predictive biomarker testing in advanced non-small-cell lung cancer: A National Consensus of the Spanish Society of Pathology and the Spanish Society of Medical Oncology. Clin Transl Oncol. 2020;22(7):989-1003. doi:10.1007/s12094-019-02218-4
Kehl KL, Lathan CS, Johnson BE, Schrag D. Race, poverty, and initial implementation of precision medicine for lung cancer. J Natl Cancer Inst. 2019;111(4):431-434. doi:10.1093/jnci/djy202. Available at: https://www.ncbi.nlm.nih.gov/pmc/articles/PMC6449167
Sin MK. Lung cancer disparities and African‐Americans. Public Health Nursing 2017;34(4): 359-362. https://doi.org/10.1111/phn.12335
Riely GL. What, when, how in biomarker testing in NSCLC. JNCCN 2017;15(5S). https://doi.org/10.6004/jnccn.2017.0073. Available at: https://jnccn.org/view/journals/jnccn/15/5S/article-p686.xml
Ryan BM. Lung cancer health disparities. Carcinogenesis 2018;39(6):741-751. doi: 10.1093/carcin/bgy047. PMID: 29547922; PMCID: PMC5972630
Slide Show - Understanding Biomarker Testing in Non-Small Cell Lung Cancer
This slide show provides an overview of
comprehensive biomarker testing
for
non-small cell lung cancer
(NSCLC), and its critical importance for every lung cancer diagnosis. Biomarker testing shows specific mutations that drive NSCLC to grow and spread. It can also show changes in the level of a protein called PD-L1. Biomarker testing helps doctors learn about your
unique type of lung cancer
and
how best to treat it
. Watch to learn about common
gene mutations EGFR
,
ALK
,
KRAS
,
ROS1
,
BRAF V600E
, and others. Experts recommend that
anyone diagnosed with NSCLC should have biomarker testing
. If you did not receive it,
talk to your doctor about biomarker testing now
. This is particularly important for African Americans and other minorities who tend to have higher lung cancer rates, longer wait for care, and lower survival rates. Be sure to ask your doctor about comprehensive biomarker testing.
Click here to take our SURVEY
Your feedback is important to us! We will use your feedback to develop future areas of content about lung cancer which will help other patients, caregivers and families.
Please rate this content: